About BGA Assembly, Ball Grid Array, or BGA, is a packaging type that manufacturers use to mount devices such as microprocessors with hundreds of pins.
Manufacturers mount BGA packages of integrated circuits onto the board directly before soldering them in place.
And this mounting and soldering process is called BGA. This guide helps you to learn more about BGA and BGA assembly.
Table of Contents
BGA and BGA Assembly
A BGA package comprises two boards: the chip package and the ball grid array.
While the ball grid array holds the balls in place, the chip package houses the BGA's electronic circuitry, commonly called the front plane.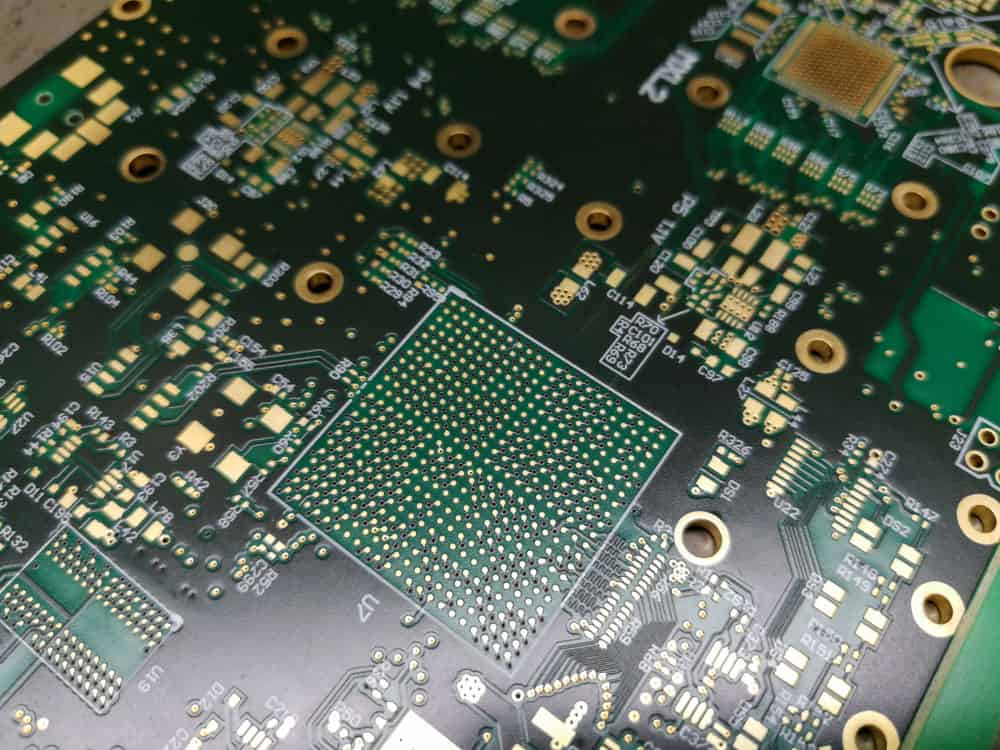 (Caption: Image of ball grid array technology)
BGA Meaning
BGA, Ball Grid Array, is a high-performance, lightweight, small-size package integrated circuit style.
Interestingly, it works like a surface-mount package, a traditional integrated circuit chip carrier.
Also, this technology allows manufacturers to mount devices with hundreds of pins permanently.
Now the nature of BGA allows the package to house high-density interconnection pins for integrated circuits than a typical dual in-line or flat package.
In addition, the pin arrangement in BGA utilizes the entire bottom surface of the device instead of the perimeter.
BGA Assembly
The process of assembling an SMD package is SMD assembly. And BGA assembly refers to assembling the package or soldering the integrated circuit onto a board.
So the difference between SMD assembling and BGA assembling is that the latter requires precise control during soldering.
BGA assembly also utilizes automated processes. And getting a custom-made BGA or BGA assembly is a challenge.
That's because BGA consists of complex microcircuits requiring elaborate processes to work.
BGA Assembly in Circuits Pros
BGA assembly utilizes small circular solder balls to enable electric currents to flow within the
circuit. This interconnection style has numerous advantages, including:
High-density circuits: Dual in-line and pin grid packages had a dense pin concentration making it nearly impossible to solder them without the risk of short-circuiting. Thankfully, BGA assembly allows manufacturers to overcome this problem.
Easy to assemble and manage: BGA assembly does not involve complex procedures. Instead, it takes a few seconds to form the joints.
Self-alignment of soldering balls: The solder balls self-align themselves during the soldering process.
Lower thermal resistance: BGA allows more heat to pass than typical microcircuits, reducing heating problems.
Enhanced electrical conductivity: Generally, BGA packaging dissipates heat more often, thanks to its tiny size. Also, the package does not have pins that can bend and break, increasing its stability and electrical performance.
Reliable construction: In general, placing solder balls and melting them using soldering bits creates a reliable construction
Performs well at high speeds: Interestingly, the BGA package performs excellently at high speeds thanks to its efficiency.
Fewer damaged leads: BGA package leads contain solid solder balls that can resist damage during operation.
BGA Assembly Cons
Like any other technical assembly or machinery, Ball Grid Array also has its drawbacks. These include:
Negative reactions from circuit boards: BGA PCB experiences negative reactions from the circuit board when it bends. Therefore, soldering the balls accurately and carefully is advisable to minimize this problem.
Challenging to Inspect: The closeness of the solder balls in the BGA assembly makes it challenging to carry a joint inspection on the package.
Expensive: Undoubtedly, BGA package equipment is costly. For instance, you must invest heavily in acquiring X-ray machines for inspecting the package.
Unreliable connections: Unfortunately, solder balls may develop cracks between the joints when vibrations occur because the balls don't bend. Therefore, always fix the balls loosely before making them firm in the last soldering stages.
BGA Application
The BGA assembling technique has many applications in modern industries, such as:
In integrated circuits for devices such as computers, mobile phones, televisions, and other electronics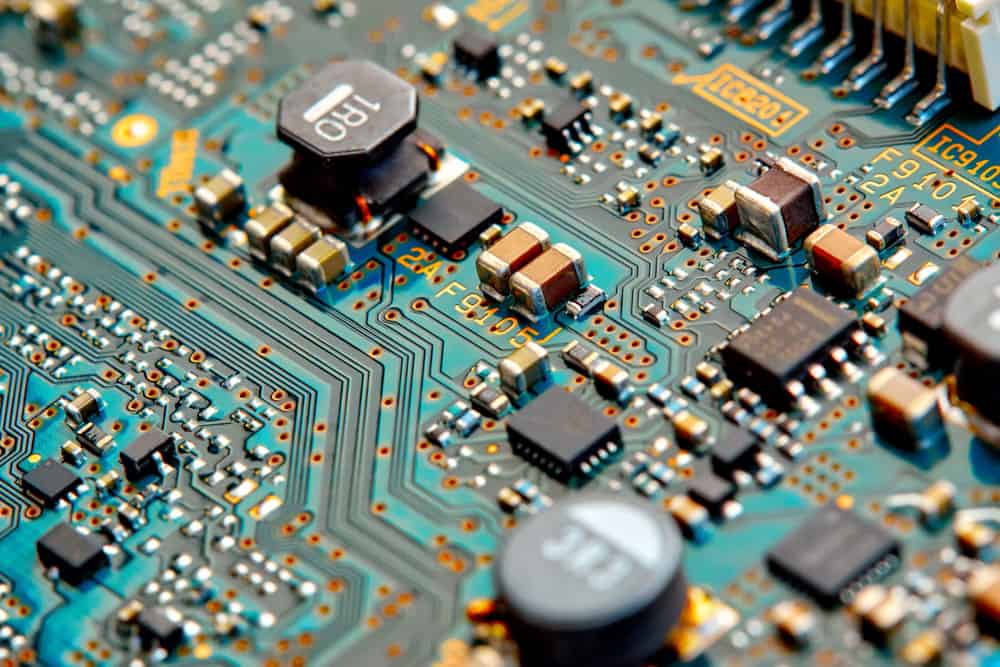 (Caption: Image of the electronic circuit board)
Military airborne applications
Flat and dual in-line systems
Automotive Industries
Consumer electronics
PCB Design Considerations for BGA
There are several considerations regarding PCB for BGA.
Some considerations apply to specific steps and others to the entire BGA assembly process.
Here's a look into PCB design for BGA considerations:
Board Constraints
Board constraint is one of the primary considerations in PCB design. It's the shape and size of the board. So you want to ensure that your board has sufficient area to house your circuit.
The end product's functionality and size determine the board's size. So always estimate the size of the board before starting the design process.
To do so, you can use a high-density interconnect or multilayer design if you don't have sufficient board space to support a straightforward design.
Manufacturing Processes
Always consider the manufacturing processes involved in building the board. That's because different approaches have various constraints and limitations.
So it's advisable to leverage reference points or holes that align with manufacturing processes on the board. Always ensure that holes are free of components.
Also, consider the board mounting method, as different approaches may require you to open different board parts.
Further, multiple technologies, such as surface mount components and through-hole, are sometimes necessary, although they can increase the cost of boards.
So talk to your fabricator to ensure their production capabilities can manufacture the specific board you need.
Materials and Components
Always ensure you have access to the items needed for your board, as some components and materials are difficult to find. In addition, some materials are expensive.
Therefore, take your time to choose optimal materials and components.
Orientation
Orienting similar materials in the same direction is essential to make the soldering process
more efficient and prevent errors.
BGA Assembly Process
There are different BGA assembly processes, including;
BGA Rework
Reworking BGA is a complex process that requires access to suitable equipment. BGA rework is essential when you discover a problem in your BGA, and it involves the following
procedure:
First, heat the BGA to melt the solder underneath. But ensure that the heat does not significantly affect other components to prevent damage.
Then, remove all the elements first before re-assembling the BGA.
Next, prepare the site for the new work.
Now apply the solder paste on the circuit board surface where you intend to solder new balls.
Then, replace all the old BGAs with new ones
Next, do the reflow process.
BGA Re-Balling
Re-balling involves removing the older and possibly damaged balls and replacing them with new ones. And there are several reasons for re-balling, including:
You want to place an accidentally pulled-off PCB back onto the board
You want to re-ball the solder balls of a wrongly soldered alloy
When you want to conduct a failure analysis
The re-balling approach depends on the volume of work you want to undertake, the alloy you intend to replace, and the package type.
BGA Solder Technique
A solder is a low melting-point material with metallic properties that melts around joints and can conduct electricity after cooling.
In the electronics industry, soldering is vital as it allows manufacturers to join electronic components.
Note, though, that soldering requires you to control the solder quantity accurately to avoid forming bridges that may cause short-circuiting.
Also, choosing the right quantity of solder alloy and optimal temperature is essential to enhance the separation between solder balls.
Further, choose appropriate tools to improve the formation of the joints. Some common tools include:
Solder iron
Thin-nosed pliers
Wire cutters
Wire-strippers
Wire holders
Solder suckers
Also, ensure the work area has proper ventilation and enough light during the soldering activity.
How to Ensure Good Soldering in BGA Assembly
Undoubtedly, good soldering is a central aspect of a successful BGA assembly. And the following tips can help you ensure good soldering in BGA assembly:
First, supply adequate heat to enable all the balls in the grid to melt and form a strong BGA solder joint bond
Secondly, supply controlled temperatures during the soldering process to establish the quality of the solder joints and prevent the balls from short-circuiting each other
Also, choose a precise temperature and alloy configuration to keep the solder semi-liquid and prevent it from melting completely.
In addition, always stick to the manufacturer's suggested reflow temperature profile.
How to Check Solder Ball Quality in BGA
So, how do you check for solder ball quality in BGA? First, note that optical techniques don't work in BGA inspection because the joints are underneath the components.
And neither are electrical components reliable because the resultant tests don't predict the solder's lifespan.
So instead, use an X-ray when inspecting the BGA solder joints.
That way, you can examine the solder joints hidden beneath the BGAs. Automated X-ray is the most suitable method.
Conclusion
BGA assembly package is an integral technological advancement in the modern world.
After all, it has proved effective, reliable, and efficient in the electronics industry despite its drawbacks.
And while designing your PCB using BGA assembly can be complex and costly, the results are worth it.
And the good news is there's hope to adopt finer technologies in the BGA assembly packages to provide highly effective devices without the shortcomings of the current BGA.