About Best Pick and Place Machines, Most manufacturers are keen on maintaining large output in production within a short time to meet demand.
This trend has sparked the need for rapid technological innovations to develop machines with high speed, precision, accuracy, and repetition rates.
One such innovation is the pick-and-place machine, which is crucial in environments requiring high speed and precision to place different electronic components, including integrated circuits, resistors, and capacitors.
And here's how unbiased review of the best pick and place machines.
Table of Contents
What Is a Pick And Place Machine?
A pick and place machine (PNP), a surface mount technology (SMT) component placement system. is a robotic assembly device or machine.
It works using a vacuum; it lifts a component off a tape or piece before rotating it to the appropriate orientation and placing it on a relevant circuit board.
Then, soldering the surface mount components completes the placement process.
What Does Pick And Place Machine Do?
(Caption: SMT machine placing components)
An SMT machine performs pick-and-place tasks that entail picking elements or parts of a component from one position and placing them in another to make a complete circuit board.
Interestingly, this setup process takes a couple of hours to assemble a machine and an even shorter time when everything runs fast.
How to Choose the Best Pick and Place Machine
The following are factors to consider when choosing a pick and place machine:
Placement Speed
Undoubtedly, a PNP machine's component placement speed and performance influence your production volume significantly. Now the pick and place machine speed measurement is components per hour (CPH) or parts per hour (PPH).
And this CPH or PPH is the rate at which your PNP machine picks and inspects components before placing them on the printed circuit board.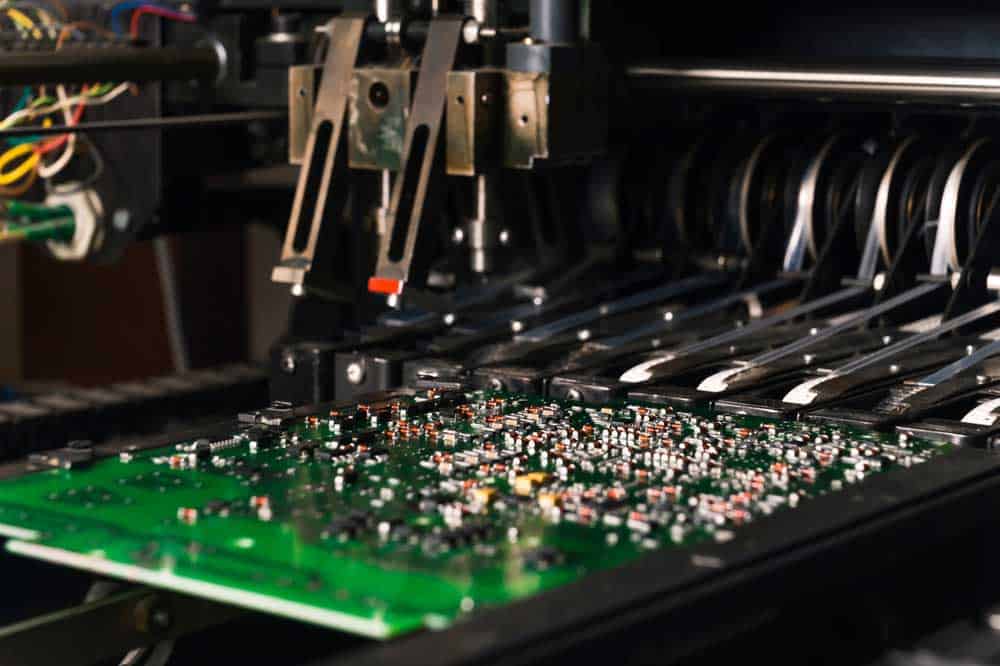 (Caption: Components being placed on circuit board)
Generally, the IPC 9850 is the typical rating among most manufacturers. And this rating offers a standard and general guide for PCB placement arrays for pick-and-place machines.
Therefore, it's advisable to devalue the manufacturer's IPC 9850 value by 20% when choosing the best PNP machine. Also, devalue the rating by at least 30% if the manufacturer's value isn't IPC compliant.
Parts Size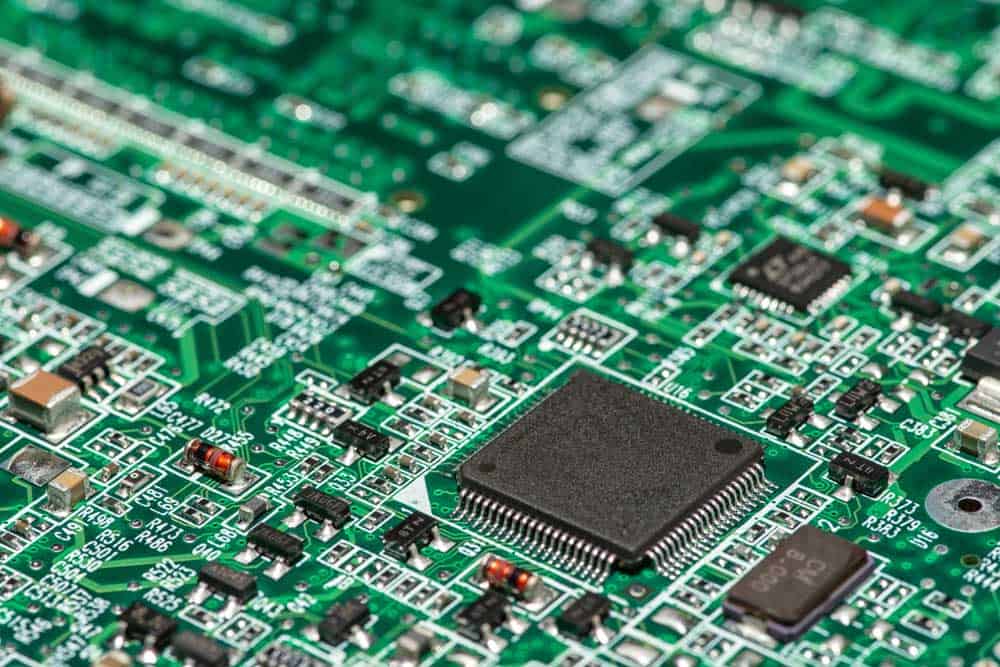 (Caption: Image depicting varying component sizes)
PNP machines feature varied component sizes with minimum and maximum dimensions that respective machines handle. Therefore, always factor in your production needs for BGA (ball grid array) and CSP (chip-scale package) when considering the machine size.
In addition, install various alignment methods on your PNP machine if you intend it to handle different parts. For example, machines featuring single alignment methods offer excellent precision and faster PCB component placement.
Also, note that you can opt for an alternative system for larger component sizes. In short, choose a machine that meets your immediate parts and component size needs.
Feeder Slots
It's important to consider the feeder per capacity (8mm tape feeder) that your PNP can occupy when choosing the best pick and place machine.
For example, larger feeders work perfectly for more significant components or parts. So always ask your vendor about the maximum number of slots larger tape feeders can occupy.
Feeder Rack Specification
Feeder rack specification is crucial when choosing your best pick and place machine.
So research and ask many questions to learn more about this aspect because feeder rack specification often reduces an equipment's functional board area.
And a reduced area makes loading more feeders challenging or impossible. Therefore, choosing a PNP whose specifications are not based on a single feeder rack is essential.
Accuracy and Readability
It's advisable to go for a pick and place machine whose accuracy is 0.0001 with a 12mil repeatedly fine pitch machine. However, most low-budget devices won't give you this accuracy.
The good news is that you can find a high-accuracy, low-budget used machine. Some pick-and-place machines have computer software to assist you in handling component placement and repetition.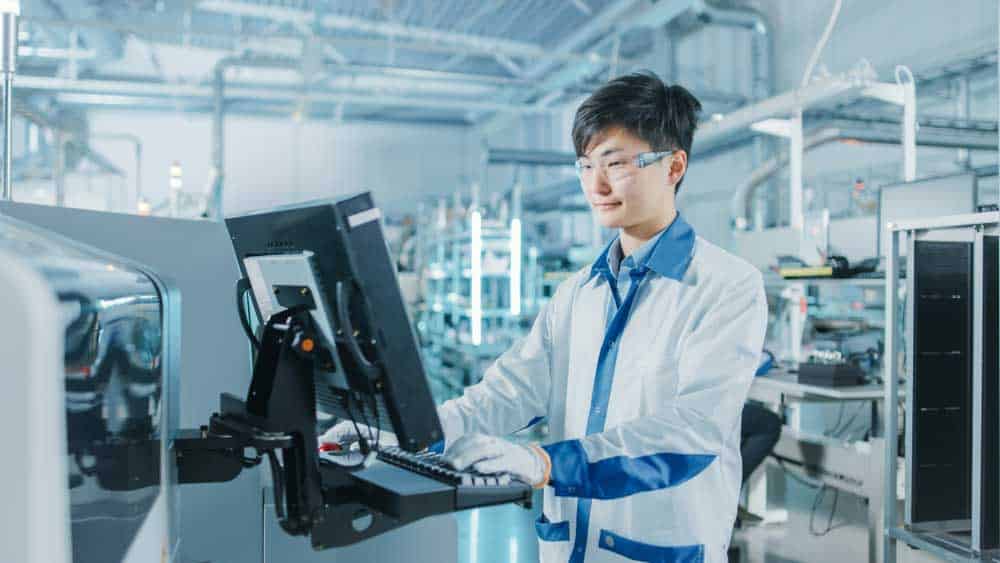 (Caption: Computer software for handling component placement)
7 Best Pick and Place Machines
This section reviews some top brands offering several kinds of pick-and-place machines.
1. Yamaha
Yamaha is among the household companies offering surface-mount technology machines. This brand produces pick-and-place machines popular for their smart manufacturing solutions.
So if you're searching for a smart manufacturing SMT option, Yamaha Motor should top your list. Here's why.
First, Yamaha offers a wide range of pick-and-place products and machines featuring surface mounter, SMD storage, management software, inspection system, solder-paste printer, SMD storage, and dispenser
Also, the company offers competitive pricing for its products that beats most SMT machine manufacturers
2. Mycronic
Mycronic is famous for its outstanding MST, MY300. This machine has helped operators to populate more boards with minimum space. Micronics SMT boasts of the following features:
First is a robust software suite, a feature that simplifies accessing information about your SMT machine use.
Secondly, a distinct material handling feature saves you the trouble of bottlenecks when handling complex SMT materials. For example, you can generate several daily circuit boards.
3. JUKI
The company's many years of experience make JUKI a leading SMT machine manufacturer. Naturally, such expertise puts JUKI in a strategic position to offer SMT solutions that meet your needs.
In addition, the brand boasts an extensive portfolio of pick-and-place machines that accommodate the needs of small, medium-sized, and large companies. The company's machines stand out for the following reasons:
High-quality and premium-performance SMT machines
Accurate placement of components on your PCB makes their machines more reliable
4. DDM Novaster
DDM Novaster is a leading pick-and-place machine manufacturer whose products are ideal for manual and automated SMT systems. The company has produced over 26,000 SMTs with massive positive client feedback.
If you're wondering why machine operators and engineers prefer DDM Novaster pick and place machines, it's for the following reasons:
First, the company produces various pick and place machines, including manual and automatic.
Also, DDM Novaster incorporates unique programming and software (SMTrue Run Optimize Software)
In addition, the company's products offer different levels of automation, incorporating distinct production stages and capabilities
Further, the company manufactures affordable pick-and-place machines with prices starting from $300 for manual SMT machines
5. Europlacer
Europlacer has displayed consistency in the production and distribution of pick and place machines. Also, the company produces SMT machines with several reliable features, including:
Smart nozzles
Automation
Upgradeability
Fixed camera
High accuracy
High speed
Electrical testing
Service maintenance
6. Panasonic
Panasonic is among the top brands that incepted the Smart Factory Solutions slogan. Since then, the company has lived up to its vision, producing SMT machines that offer top-notch solutions.
Also, the company distributes versatile machines for entry and complex requirements. In other words, Panasonic machines meet your diverse smart manufacturing needs.
7. Hanwha
Hanwha Precision Machinery started in 1989 when they manufactured their first chip mounter. Since then, the company has widened out into extensive manufacturing processes such as:
SMT mounters
Equipment production
Insertion and equipment automation equipment
Industrial automation equipment
In addition, Hanwa prides itself on versatility, greater efficiency, and excellent customer care.
New Vs. Used Pick and Place Machine
So, new or old? It depends primarily on your budget constraints and what you want to get out of the machine. Remember, you can still get the best pick-and-place machine with a low budget.
If you want a used machine, getting the correct information from a reliable dealer of second-hand SMT equipment can help you pick an ideal machine that perfectly suits your needs.
In addition, consider the factors mentioned earlier in this article and the types of machines available in the market.
A used pick-and-place machine is a worthy choice when you want the best machine with a limited budget.
FAQs
What Pick and Place Machine is the Best?
The best pick-and-place machine narrows down to your needs. However, LS40 is the most popular SMT machine among clients, thanks to its sufficient work area (13″ x 22″) and 96 tape position its technologically advanced system offers.
How Accurate Are Pick and Place Machines?
Undoubtedly, pick-and-place machines provide unmatched accuracy levels compared to human manual assembling. For example, an SMT machine can set a binder part within 1/10000th of an inch placement, which humans can't do manually.
How Do I Select a Pick and Place Machine?
There are several factors to consider when selecting a pick and place machine, including;
Feeder slots
Parts size
Component lead and pitch
Accuracy and repeatability
Feeder rack specification
What Type of Machine is SMT?
Surface mount technology (SMT) placement systems, also called pick and place machines, are automated machines that place surface mount devices onto printed circuit boards.
Conclusion
Now you know the best pick and place machines. Also, you understand how to choose the best pick and place machine by considering factors like parts size, feeder slots, and placement speed.
Remember, you can still get a good pick-and-place machine if you're working with a limited budget.
Just remember to deal with a reliable seller, and just as you would when buying a new machine, consider the factors listed above to help you choose a good machine.