Allegro vs. OrCAD are both PCB design software from Cadence. As much as they have some similar features, the two are different tools targeting all levels of PCB designs.
Some research shows that OrCAD is the more popular tool among the two.
However, does popularity translate to better designs and interfaces? Well, not necessarily.
You're in the right place if you're digging to know which wins the Allegro vs. OrCAD battle. In today's piece, we highlight both design software to help you decide the one that suits you.
Table of Contents
Allegro PCB Designer Overview
Allegro is a PCB layout tool developed by Cadence Design Systems for the design and analysis of electronic circuits. The designer performs real-time design insights, including integrated analysis workflows.
Additionally, its HDI technology enables you to make slim PCB designs without compromising the quality of your work. Also, you can link it with the industry regulations to ensure that every step of the electronic assembly process is top-notch.
Another essential tool in the Allegro PCB Designer is the Entry Capture tool. The tool allows you to develop PCB schematics using a user-friendly graphical interface.
Consequently, it avails a wide range of components and libraries to make your work easier. Overall, Allegro is Cadence's top tool that caters to the needs of PCB designers.
OrCAD Overview
OrCAD is a suite of EDA schematic capture tools engineers use to design and analyze PCBs and other electronic systems. It was developed initially by OrCAD Corporation but is currently under Cadence Design Systems.
Therefore, as a suite, OrCAD has many tools that perform tasks such as schematic capture, PCB layout, and signal integrity analysis. The system is very versatile, and you can design simple circuits all the way to complex systems.
Consequently, it has become one of the most well-known EDA tools in the PCB industry.
Additionally, OrCAD has a range of tools that perform various functions. First, the OrCAD capture tool allows PCB designers to create board schematics using a graphical interface.
In the process, it avails a wide range of components and libraries to make the work easier. Therefore, if you're working on a complex project, utilize the tool's support for hierarchical designs.
In other words, the tool breaks down intricate designs into more manageable parts.
Second is the OrCAD PCB Designer, which allows you to develop physical schematics for electronic circuits. With the tool, you can utilize netlist generation and design rule checking to ensure your setup is top quality.
Moreover, OrCAD Designer offers a variety of tools for signal simulation and power analysis. Therefore, it is a popular choice for individuals needing a solution to their electronic design needs.
Allegro vs. OrCAD: Key Features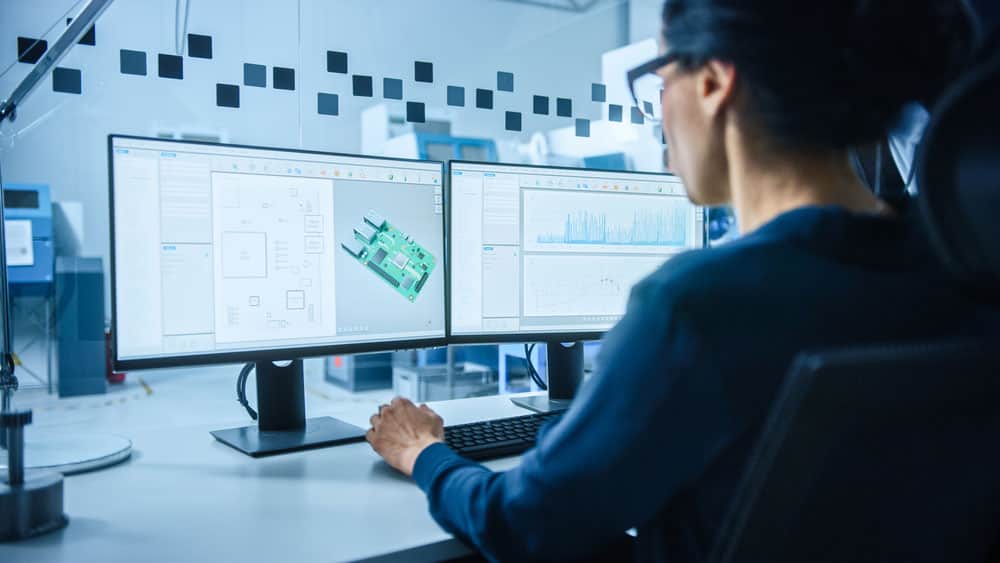 (A designer working on a PCB design)
Allegro and OrCAD are EDA tools from the same company. Moreso, they perform similar roles in PCB design. Therefore, here's an overview of the critical features that differentiate the two.
Allegro Key Features
Allegro has a comprehensive suite of features, including PCB design options. Additionally, it has a simulation and in-design analysis capability to ensure that you have all you need in one package. Here are some of its key features.
DesignTrue DFM Technology
The Design for Manufacturing (DFM) tool is an analysis tool that points out errors and potential manufacturing issues. Therefore, a designer can identify mistakes early in the design process and adjust accordingly.
Further, the technology allows you to define your manufacturer's rules at the start and apply them to your design. Consequently, it saves you time as you'll design every step with little room for errors.
Design Rule Checking (DRC)
Allegro's DRC feature eliminates errors to improve the PCB design process. The DRC verifies that the design complies with the requirements by comparing it to user-defined standards. Besides, it informs you of parameters outside the acceptable range in the design.
Interactive Routing
Allegro Interactive Routing is a feature that enables designers to route traces. Also, it allows one to change the parameters where necessary. Afterward, you'll access trace length tuning and differential pair routing functions.
Copper Pouring
Allegro PCB Designer has a copper pouring feature that lets a designer fill out empty areas of a board with copper. Therefore, signal integrity improves by lowering the system's electromagnetic interference (EMI).
OrCAD Key Features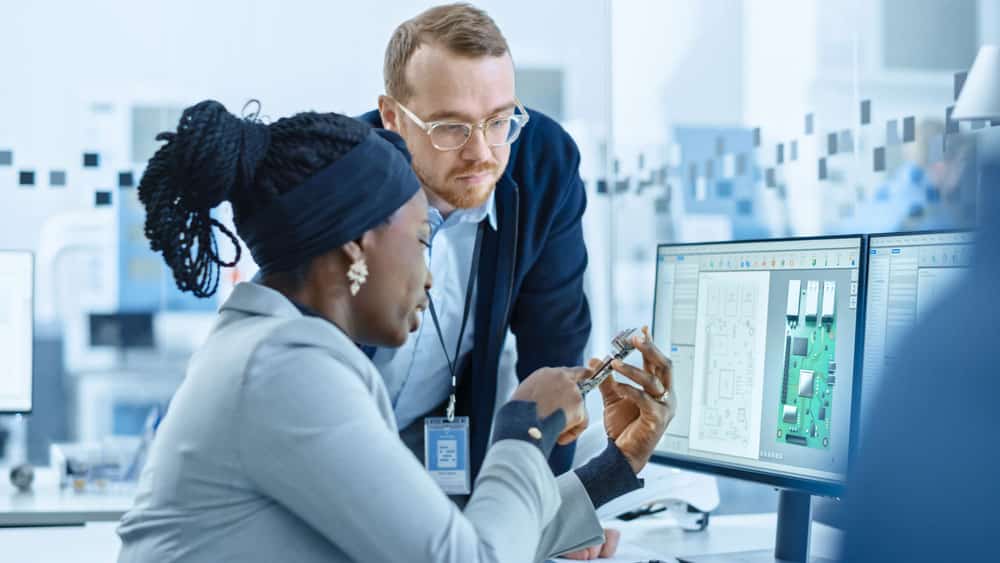 (A supervisor talking to a PCB designer)
OrCAD is a suite that has a ton of features that help designers come up with flawless circuit boards. Here are essential features that you should take advantage of.
SPECCTRA Automatic Routing
Specctra routes boards automatically by utilizing a shape-based technology to display data. Accordingly, it improves the efficiency of routing sophisticated PCBs with hundreds of components.
It considers various design limitations like trace width and length matching while routing.
OrCAD Schematic Entry Tool
The OrCAD Schematic Entry is a tool for developing PCB schematics using a graphical user interface. It has many features that support hierarchical designs and library management.
Therefore, you can break down complex circuits into smaller, more manageable ones with hierarchical designs.
Electronic Rule Checker
The ERC ensures that PCB products meet the industry requirements for electrical design. Moreover, it automatically examines the schematic design for any electrical irregularities.
Furthermore, the ERC tries to resolve any issues that could develop during the creation or use of the complete PCB system.
Pros and Cons of Allegro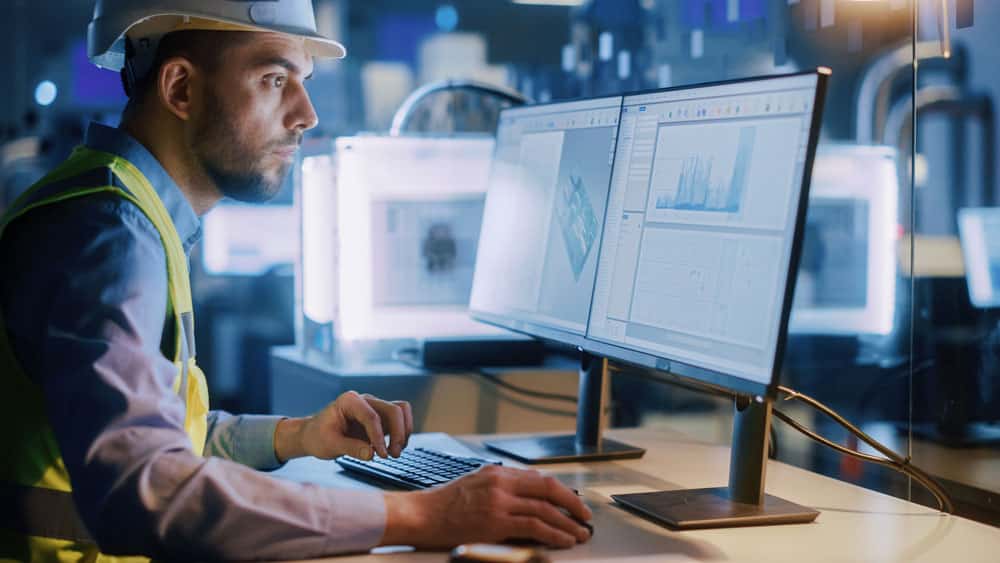 (Developing microchips using computer software)
Pros
Cost-effective
Maintains high performance even when you're working on large projects
Excellent copper pouring capabilities
Advanced functionality like signal integrity analysis
Excellent community support
The software is highly customizable
Its features are industry standard
Cons
Pros and Cons of OrCAD
Pros
Intuitive interface with automated CDIR feedback
Cheaper in comparison with other PCB design software like Altium
Supports integration with other design tools like Allegro
The software has excellent layout tools
Extensive collection of electrical symbols and components
Supports integration with MATLAB
Cons
It has a steep learning curve
It has a limited platform support
It has limited libraries and fewer levels of integration
Allegro vs. OrCAD: Which Is Better?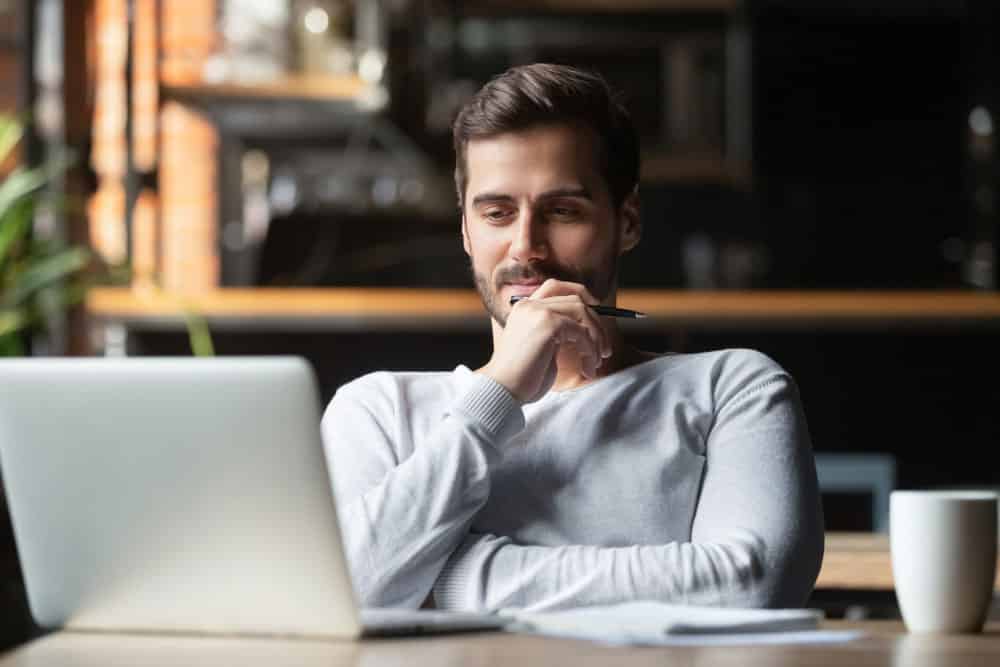 (A man deep in thought)
Allegro and OrCAD are excellent tools for creating and analyzing printed circuit boards. Consequently, deciding on the best suits you will depend on your preferences and project requirements. Therefore, here are some points you need to consider.
Functionality: Both tools offer many cutting-edge features that aid in designing complicated PCBs. However, since Allegro is a tool specifically for PCB designs, it has more features than OrCAD.
Some features exclusive to Allegro include signal integrity analysis and advanced routing. On the other hand, OrCAD is a tool for simpler designs.
User Interface: Some people find OrCAD easier to use and more intuitive. Conversely, veterans prefer Allegro's feature-rich setup that doesn't need integration with other tools.
Integration: Using Allegro presents you with tons of other tools from Cadence. However, go with OrCAD if you prefer software that you can integrate with tools from different vendors.
Generally, both OrCAD and Allegro are excellent tools. Therefore, choosing between them depends on personal preference.
FAQs
Is Allegro free software?
No, Allegro is commercial software that requires one to have a license to use it. Therefore, it has different feature points determining the price and licenses you need.
Moreover, some users, like students, may be eligible for educational licensing or other special deals.
Is Allegro suitable for beginners?
Allegro is not the best PCB design tool for a beginner, as it has a steep learning curve. Again, the software has many features and capabilities you may need help to grasp as a beginner. Consequently, it makes navigation and making the most out of the tool tedious.
The Takeaway
In conclusion, Allegro and OrCAD are excellent tools for designing printed circuit boards. Nevertheless, we primarily use OrCAD to utilize its schematic capture tool.
On the other hand, Allegro is a bigger software that you'll find in larger PCB companies. Therefore, its high configuration level may not suit beginners and smaller designers.
If you want a more straightforward interface for smaller designs, go with OrCAD. However, you'll be missing out on a ton of features that are available on Allegro.