About Best Flux for Soldering, If you're an electronics expert, you understand that the lack of lux can make soldering temperamental or impossible.
However, not every flux will work for your soldering task. Select the best flux to limit damage cases and improve your soldering exercise.
Generally, flux helps clean a surface for solid jointing and removes metallic impurities. But what is the best flux for soldering electronics? Read on to find out.
Table of Contents
What is Solder Flux?
(Soldering iron in solder flux)
Flux is a purifying or chemical cleaning agent used in soldering and desoldering processes to remove oxide films. Surprisingly, a flux is made up of an activator and base material.
The purpose of an activator is to improve the wetting of the solder, thus enabling it to flow uniformly. Therefore, you'll find flux commonly used in metal joining and extractive metallurgy.
The Best 6 Soldering Flux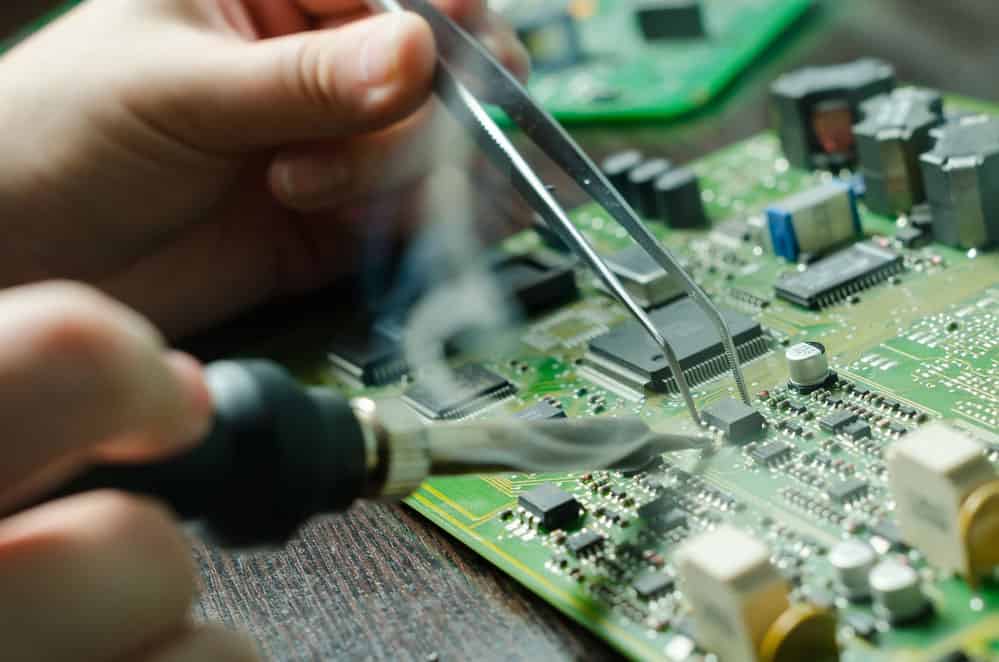 (A person soldering a circuit board)
Check out the best soldering flux below:
SRA Rosin Soldering Flux Paste
This soldering flux has petroleum containing an organic acid activator and rosin. Interestingly, this flux comprises Zinc Chloride and Ammonium Chloride, making it the best option for electronic soldering repairs.
Therefore, with this product, you won't have to vacuum out any leftover rosin while soldering. Additionally, the flux deoxidizes metal joints effectively to expose the metal to excellent soldering.
Pros
The product is easy to apply
It doesn't have zinc
You'll do minimal cleaning after use
The product is meant specifically for soldering electronics
It has an excellent temperature range of 200 – 600°F.
Cons
It leaves behind a black residue
The flux crystallized after a few years of use
ChipQuik SMD291 No-Clean Tack Flux
If you want a non-conductive, non-corrosive, and no-clean soldering flux, count on the ChipQuik SMD291. This product is easy to apply and disperse, and after application, you can leave it on the PCB. Also, this flux works well with all electronics, SMD soldering components, wires, and circuit boards. Furthermore, the flux takes less time to melt.
Pros
It's an accurate flux for electronics
It's no-clean, non-conductive, and non-corrosive
It is an excellent wetting agent
It provides a pleasant odor and acts quickly
You can clean it off quickly using isopropyl alcohol
It's perfect for leaded and lead-free applications
Cons
Plunger in the syringe might turn out messy
LA-CO 22101 Regular Flux Paste
The LA-CO 22101 is a water-soluble flux perfect for copper soldering. Surprisingly, a water-soluble flux is a more effective reactive cleaner than rosin fluxes. Additionally, this flux is all-weather, and you can use it in cold or hot climates.
Pros
It's an all-weather formula
The product water-soluble
You can use it for brass and copper soldering
The flux doesn't leave any residue
Cons
It doesn't work well for electronics with lead components
Apart from copper, the joints don't last long on electronics
MG Chemicals 8341 Best Flux
The MG chemicals 8341 flux comprises thixotropic agents and high-grade synthetic resin. We like this product for its superior fluxing ability and instant wetting properties. Also, its rosin residue becomes moisture-resistant, non-conducting, and non-corrosive after soldering. Moreover, the flux is compatible with both lead-free and leaded solder systems.
Therefore, we recommend the MG chemicals 8341 flux in high-temperature electronic applications.
Pros
It's the best product for high-temperature lead-free applications
The product is water soluble
You don't need to clean your circuit after the application
Cons
Convenient syringe dispenser
Harris SSWF1 Stay Silv Flux
The Harris SSWF1 Stay Silv is perfect for silver brazing for non-ferrous and ferrous metal soldering tasks. This product is designed with a low-temperature feature making it perfect for brazing stainless steel, nickel alloys, steel, copper, and brass.
Therefore, the benefit of buying a Harris flux is the excellent customer service, always available to answer product-related and technical questions. However, the flux won't work well with titanium, magnesium, and aluminum.
Pros
Works well under low temperature
Perfect for silver brazing tasks
Cons
It presents cleaning issues
Delcast Rosin Soldering Flux Paste
If you want to solder printed circuit boards or mobile devices, count on this Delcast Rosin soldering flux. Interestingly, the flux will give you more accurate and controlled soldering joints.
Moreover, it forms a protective coating over your soldering joint to eliminate corrosion cases. Furthermore, its nontoxic and non-acidic properties prevent safety concerns.
Pros
Produces accurate and controlled soldering
It won't leave any residue
The product dries quickly
It's highly active
Cons
It won't work in other projects except for electronic tasks
Types of Flux Used in Electronics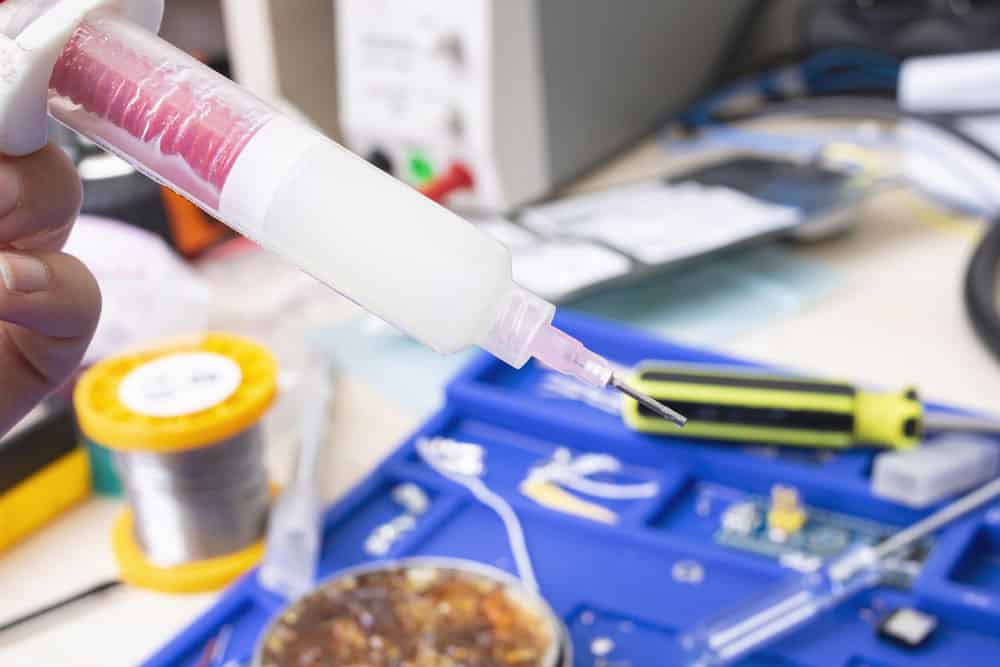 (Syringe with flux)
Even before we look at the flux types, it's good to understand that a less acidic flux causes little damage to your electronics.
Generally, each flux has unique properties that make it perfect for soldering tasks. Therefore, consider the flux types below to identify your perfect match:
Rosin Flux
Rosin flux is the most reliable and oldest flux you'll ever find. We like it since it gets rid of metal oxides quickly. Also, this liquid flux is acidic, making it safe to leave on your electronics after it has cooled.
However, it's prone to damage if applied in high-temperature situations. Therefore, we recommend removing it after you're through with soldering. Since the removal process is hard, use alcohol to make everything easy.
Liquid Flux
This is the best alternative you have for rosin flux. Surprisingly, you can also use them to remove metal or oxides. Therefore, their fluidity makes them perfect for application and dabbing areas requiring soldering.
However, this flux cools down quickly, giving you less soldering time. Also, we noticed that they flow easily to unexpected areas on the circuit. Moreover, you'll have to remove them from the circuit after soldering.
Easy Clean Flux
This flux has a reduced potency making it easy to clean. Generally, it has less powerful chemicals compared to other products. Therefore, it has a smaller soldering window.
Soldering Flux Buying Guide
Before you purchase a soldering flux, consider the following:
Weight
If you plan to work on electrical circuits, you'll need a lot of flux to handle such heavy-duty tasks. Therefore, you need to consider the soldering flux's weight before purchasing.
Most electronic soldering fluxes weigh about 2 oz. However, we recommend weights between 4 oz to 16 oz for heavy-duty tasks.
Compliance
Generally, a flux consists of chemicals you use to clean your electrical connections after soldering. Luckily, most flux options employ a similar chemical composition.
However, for the best performance, consider a RoHS-compliant soldering flux. These fluxes are tested for optimal results and can work well in all circumstances.
Warranty
What is the point of purchasing an expensive flux offering a short shelf life? The good news is that most products come with a warranty of at least one year. Therefore, if something unexpected happens, you'll get a replacement.
What is the Difference Between Solder Flux and Solder Paste?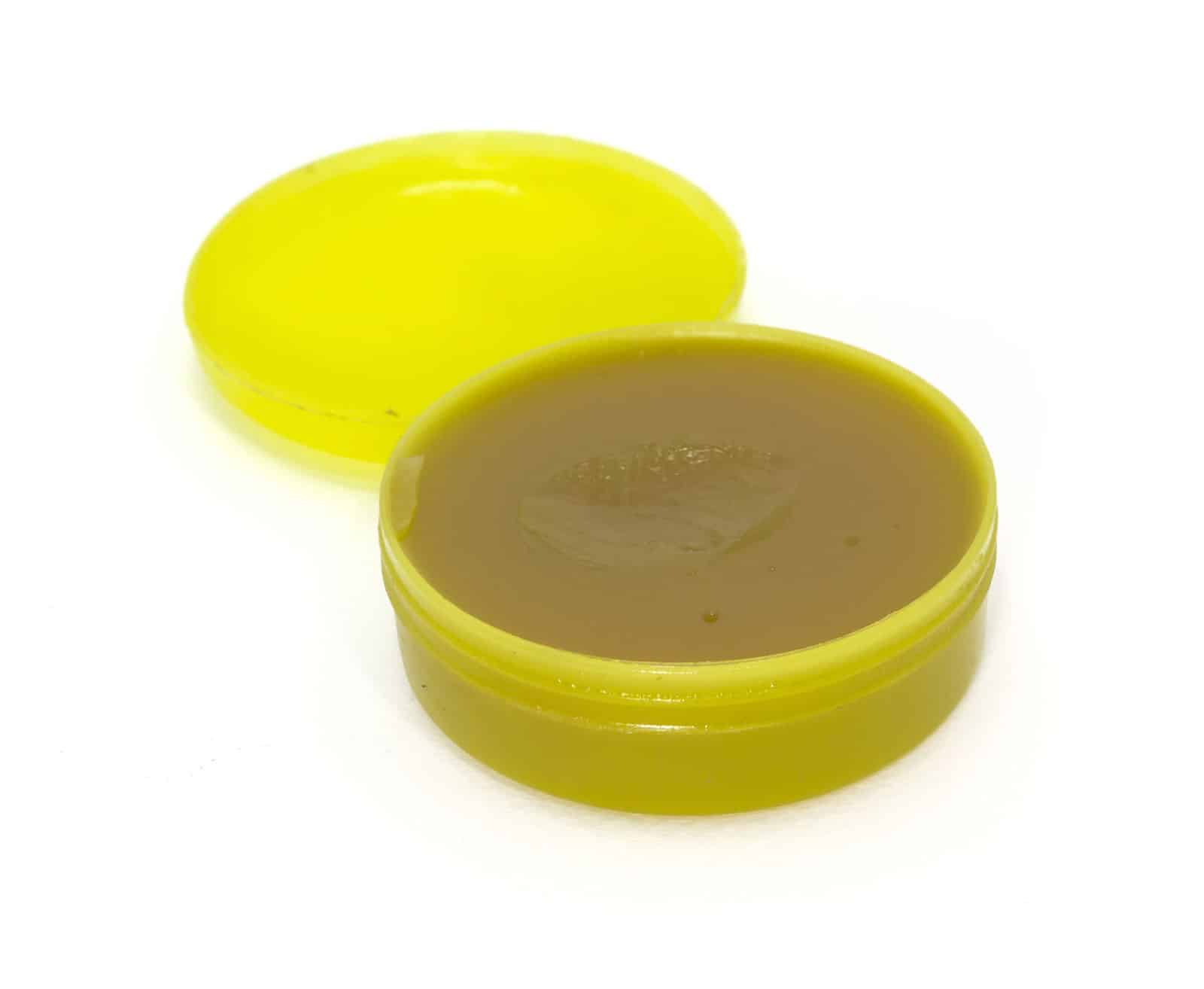 (Solder paste on the surface)
The main difference between a solder paste and solder flux involves their physical properties and composition.
First, solder flux is liquid and involves solvents with some rosins, activators, and other additives. In most cases, you dilute it with water and spray it onto the circuit component.
On the other hand, a solder paste is a jelly-like substance that you mix with solder powder to form a substance that looks like putty.
Additionally, solder flux has a maximum of 25% active ingredients. However, solder paste has 60-80% active ingredients.
Finally, after mixing the solder paste, it's about 90% making it appear heavy.
FAQ
How do you solder with flux?
To solder using flux, use your finger or brush to scoop some soldering flux. Next, spread the flux over the surface you wish to solder. Therefore, ensure the flux covers the wires completely. And if there is excess flux, wipe it off.
What flux should I use for soldering?
We highly recommend the rosin-activated flux for electronic soldering since it offers excellent solderability in different applications. However, you can use no-clean flux when you don't intend to clean.
Do you apply flux before or after soldering?
You should only apply flux during and before soldering. After soldering, you can only remove flux residues.
Can you solder without flux?
Nothing stops you from soldering your surface without flux. However, you'll need something to remove oxides from the metal surface for the best results.
Conclusion
In conclusion, you should apply flux to make solder on your electronics possible and successful. Generally, the best flux limits damage cases and, at the same time, improves the solder exercise.
Additionally, it cleans the surface for solid jointing and removes metallic impurities.
Therefore, we have highlighted the best flux options above to make your selection easier. Finally, don't hesitate to make your soldering experience better.