About Best Circuit Design Software, The design of electrical circuits has come a long way from drawings on paper to what it is today.
Nowadays, we have printed circuit board design software you can use to come up with high-quality and error-free designs.
With such software, you'll use fewer resources and effort while achieving high accuracy.
Surprisingly, although we have many circuit design software, quality software is very limited. Therefore, you have come to the right place if you're looking for the best circuit design software.
Below is some quality software to make your work easy and excellent.
Table of Contents
What Is Circuit Design Software?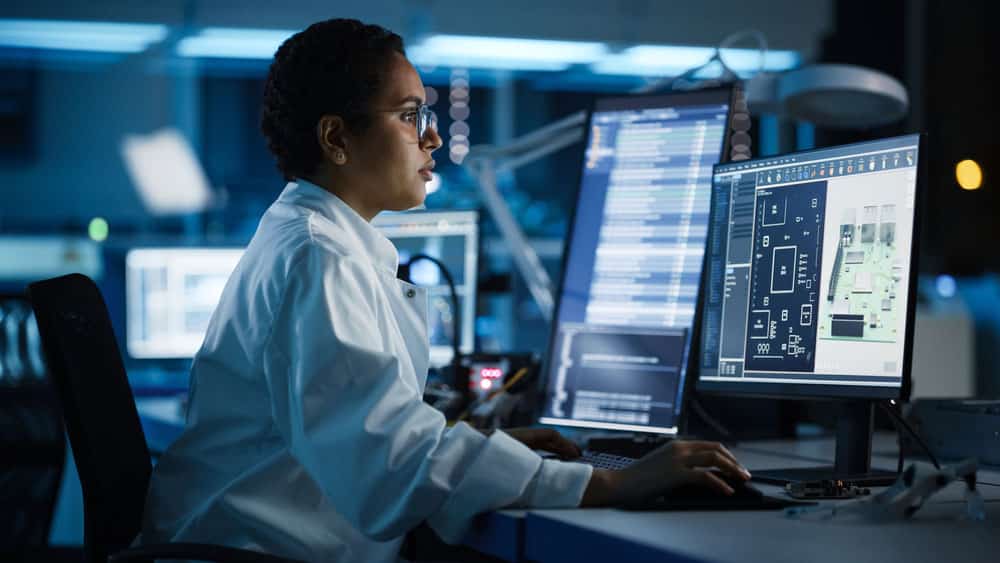 (A female engineer designing)
A circuit design involves designing, assembling, and routing circuit components to establish an electrical connection that powers the circuits on the PCB board. Therefore, we refer to the software you use to achieve this as circuit design software.
The features of circuit design software include:
They have schematic editors for assembling and editing graphical objects, electrical objects, and components.
Both 2D schematic and 3D visualization of the PCB to see the appearance of the design. Also, this helps you identify any errors and edit components with ease.
An auto-routing feature for connecting the different points on the circuit to enable the electrical connection.
A feature to check design rules. This helps to identify any design flaws and violations based on the available guidelines.
Finally, collaboration features help designers work together on the project in real-time.
Therefore, designers can make changes, give feedback, and make helpful comments.
Best Software for PCB Design
(A PC with design software)
Below is some best software for PCB design to consider:
Altium Designer
Without question, Altium is among the most powerful PCB design software. Generally, the software is modern and easy to use.
Surprisingly, it has a design environment that allows you to see every design process aspect, from brainstorming to PCB layout, manufacturing, and documentation.
Additionally, Altium normally integrates with other software like Autodesk Inventor, PTC Creo Parametric, SOLIDWORKS, and Autodesk Fusion 360.
Also, you'll get to collaborate with other designers in real time to create a complete design. In this case, you can have the essential files in a central location to eliminate miscommunication and improve communication between your team members.
Furthermore, the software allows you to manage 3D PCB designs. And before you subscribe to the software, there is a free trial to test the features.
Eagle – SPICE simulator
This is an Electronic Design Automation (EDA) software that lets you connect schematic diagrams and component layouts. Also, it allows routing circuit boards and having comprehensive library content.
The software allows you to use SPICE simulation methods to test ideas and check circuit performance. Any changes are synchronized between models and layout to allow you to focus only on the creative process.
Additionally, this design software allows you to manage 3D-printed circuit board models. However, you can only access support and training resources with Fusion 360 subscription.
Fritzing
Fritzing is a creative and open-source platform allowing researchers, designers, and hobbyists to interact with electronic components and create projects. Surprisingly, Fritzing also offers services like Arduino and processing on top of the software tool. Also, there is a community website that you can interact with.
We like this software since it's free and allows you to document your prototype and share your work with a team. Additionally, you can use it to design and manufacture PCB boards.
Furthermore, you can use it to design from a Linux, MacOS, or Windows device. Generally, the platform is easy to use, and we recommend it for beginners.
PCBWeb Designer
PCBWeb designer is a reliable platform that allows users to design and manufacture electronics. The platform has multi-layer support to facilitate PCB layout and a schematic shot for multi-page design.
Additionally, a simple wiring tool allows you to develop multi-sheeted schemes. Furthermore, there is an integrated Arrow detail catalog having a specification manager. However, the software can only run on Windows computers.
Fusion 360
If you're looking for an all-in-one platform covering manufacturing, design, engineering, and electronics, count on Fusion 360. The platform lets you do PCB designs, 3D modeling, CAM, CAD, and CAE.
After you finish your design, the software allows you to check its manufacturability using generative design tools and simulation.
Also, Fusion provides CAD-ready geometry so that designers don't start from scratch. Here, you can generate geometry by inputting cost constraints, manufacturing methods, parameters, and materials.
Moreover, you'll like their pricing options, starting from $42 per month. Also, there is a free trial dedicated to students and business owners.
KiCad
This is a cross-platform and open-source design platform that you can use for schematic editing and complex design. What we like about KiCad is that it allows you to create symbols or select from the countless options in the official library.
Moreover, there is an interactive router, selection tool, and improved visualization to make task layout easier.
Further, you can preview your final product and check the right mechanical fit using a 3D viewer. Finally, you can download and use it on all platforms, including Windows, Fedora, MacOS, and Ubuntu.
DipTrace
DipTrace stands out for its intuitive interface and desirable capabilities like hierarchical schematics, STEP 3D, in-depth rules, and differential routing.
On top of that, it allows you to exchange data with platforms like Eagle, PADS, OrCAD, Altium, and 2D/3D CADs. You'll like its import and export feature that allows users to convert schematic to PCB and back.
Moreover, you'll interact with at least 10 million parts and over 160,000 packaged components.
Furthermore, you can review designs at any point in the development process. Almost everyone using this tool likes its 3D model generation tools.
Ultiboard
With Ultiboard, you're signing up for an efficient design, routing, and layout platform. There is a manual precision feature to help you define PCB elements.
Moreover, Ultiboard allows you to import industry-standard files like Gerber and DXF to complete the design flow. Furthermore, you'll get several electronic solutions to facilitate the easy design and manufacturing of electronic components.
Why Use The Best PCB Designing Software?
(An engineer working on a design)
Saves Time
If you have ever designed a PCB without design software, you understand how time-consuming and difficult it is. However, design software allows you to choose pre-made software, thus making everything easier.
Easy To Test Your Design
Design software allows you to make a design and go through the testing phase, where you verify the PCB's feasibility and design. We all know manual testing is time-consuming, labor-intensive, and inaccurate.
Therefore, design software comes in to make the testing easy and accurate.
Better Visibility
Design software employs 3D visualization and other features to check designs from all angles. Therefore, it becomes easier to identify errors and correct them.
Cost Effective
If you decide on a manual design, you'll invest more resources in machines, workforce, and power. And any changes you make to the design increase your expenses. Therefore, the software makes design and modification easy, thus reducing costs.
Application of PCB Design Software
(A man holding a designed PCB)
Generally, PCB design software helps with design layout, component alignment, trace routing, and rule checking. Some of the specific uses of PCB design software include:
3D component visualization: This involves catching faulty components. Therefore, the aim is to detect the problems earlier and minimize resource wastage later.
Layer structure visualization: Here, you visualize the layer structure of your PCB. Consequently, you can develop a double, single, or multi-layer PCB.
FAQ
How long will it take you to design circuit boards?
The time will vary from 1 day to months, depending on your experience. Experienced designers can even take hours.
Is it difficult to design a PCB?
You'll only find PCB design difficult if you lack the required skills and experience. However, this is something you can quickly learn and become a pro.
Is circuit design in demand?
Yes! There are few experienced circuit designers in the industry. Therefore, the ever-growing technology creates a high demand for these professionals.
You can gain skills in Circuit design and be assured of landing a good job offer, especially in the future.
Conclusion
By now, you should know that having reliable circuit design software is necessary for the best PCB designs. Modern software even comes with 3D component visualization to help you identify faults in the circuits.
Consequently, you'll save time, gain visibility, and reduce manufacturing costs. Therefore, choose any circuit design software from the above list for the best designs.